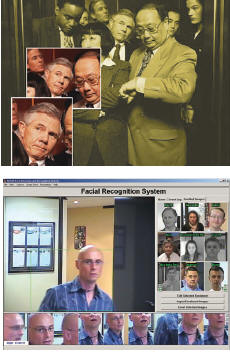 Facial Recognition System

Face FINDER
Viisage Face FINDER Patented real-time video technology scans crowds of people and matches individuals to selected faces previously stored in am image database.

Face PASS
Viisage Face PASS Supports one-to-one verification of an individualís identity to authenticate that the holder of an ID document is the authorized user.
Face PROOF
Viisage Face PROOF Evaluates aggregated information on IDís and the most commonly used breeder documents as well as a variety of additional data points.

Face TOOLS
Viisage Face TOOLS is a Software Developerís Kit (SDK) for non-distributed environments designed to enable developers to build application using leading , state-of- art face recognition software for their identity solutions.